Gas water heaters remain a popular option among homeowners. In spite of competition from their electric counterparts, gas storage water heaters supply hot water to about 60% of America's homes. How you choose to heat your household water makes a difference in an economy where heating water in the home has become the second-largest household expense, according to the Department of Energy. Gas storage water heaters are a great option for lots of families, but they can still have some drawbacks. Let's take a look at some of the common problems associated with a gas storage water heater.
Gas water heater problems with performance issues
Typical gas storage water heaters tend to outperform same size electric storage water heaters. They just have a faster recovery time. Sometimes, though, older — and even newer — units can malfunction. Here are some common gas water heater problems.
Little or no hot water
Arguably the most annoying hot water heater problem, reduced or no hot water when it's needed ranks as the most common issue. Little hot water results from a variety of issues.
Increased demand for hot water prevents the water heater from fully heating water before delivering it. Are you remodeling? Do you have guests or a new family member? How about a new, larger washing machine? All of these can increase the demand for hot water and affect how quickly the water heater recovers. Other common causes of reduced hot water supply are: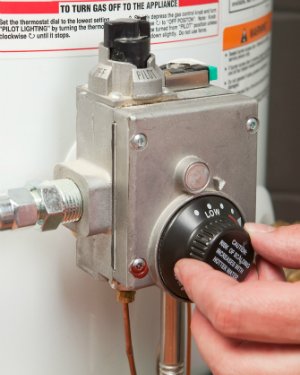 Thermostat set too low
Thermostat malfunction
Faulty dip tube
Sediment build up in tank
Incoming water pressure is low
Dirty or faulty gas burner
Adjust the thermostat to a higher temperature and see if this resolves the issue. If not, you may need to check the thermocouple. This is a safety device that shuts off the gas if the pilot light goes out. It is fairly easy to replace. A faulty drip tube delivers cold water into the tank at a higher level than designed. This allows the cold incoming water to mix with the hot water at the top of the tank and cool it down. Replacing the drip tube can remedy this problem. Over time, sediment build up in the bottom of all storage water heater tanks. This layer of sediment prevents the burner from heating the water as efficiently. Annually flushing your water heater eliminates this problem. The gas burner beneath your water heater may also be in need of cleaning or replacement.
No hot water
If you have no hot water, you might have a problem with your pilot. Pilot lights can go out when there is no problem with the unit. If this is the case, simply relight the pilot. If the pilot fails to stay lit, you probably have a bad thermocouple. Older gas water heaters have a pilot easy to light with a match or a candle-lighter. Newer models, however, have a button you push to activate a spark igniter inside the burner compartment. If the problem is the thermocouple on an older unit, you can DIY the replacement. A newer unit requires the services of a professional because the thermocouple is behind the sealed compartment and not easy to access safely without the proper equipment. If the thermocouple is not the problem, you might have a faulty gas valve. In this case, definitely call in the professionals.

Leaking
If you find water on the floor under or near your water heater, you need to find the source of the leak. Leaks can occur in several different places on your water heater. One potential leak location is the top of the tank where the cold water enters the drip tube. This leak presents an easy fix. Just tighten the connections. The T & P (Temperature & Pressure) relief valve sits on the outside of the tank near the top and has a small pipe running to a drain near the heater. You can repair a leak from this valve, but if the leak originates in the bottom of the tank, you will have to completely replace the tank.
Gas water heater problems with sounds and smells
Faulty plumbing and normal wear-and-tear provide a homeowner with plenty to do. Unfortunately, gas water heaters have a reputation for some additional types of problems.
Sounds
Rumbling. Popping. Ticking. Sizzling. Hissing. Hammering. Knocking. Gas water heaters have a reputation for conjuring all of these noises. Fortunately, each sound indicates a specific problem or two for you to check and correct.
Popping:
This occurs when sediment has built up in the bottom of your tank. The sediment causes the water to boil. Water bubbling up through the sediment makes the popping sound.
The Fix: Flush your tank annually to keep sediment from becoming a hazard. Or, install a water softener system to prevent sediment from collecting in the tank at all.
Ticking:
Ticking noises come from a couple of problems. The first, variations in water pressure, you really can't fix. The second, however, presents an easy fix. The pipe straps holding the hot water lines that come out of the tank can be loose and cause an annoying ticking sound.
The Fix: Pick up some plastic spacers at the hardware store and install them to keep the straps from slapping into the pipes.
Sizzling or hissing:
This sound also arises from a couple of possible sources. A tightly closed relief valve can generate a sizzling sound. Water dropping onto the hot gas burner assembly will also cause a sizzling noise.
The Fix: Not so easy this time. The water dripping onto the burner is probably coming from the bottom of your tank. A leaky tank can't be fixed. It must be replaced.
Rumbling:
This is also a sound you really don't want to hear from your tank. A rumbling sound occurs when the tank has begun to rust out from sediment build-up.
The Fix: The rusting metal leads directly to a leaking tank, which, as stated previously, leads to a replacement.
Discolored water
Has this ever happened to you? You turn the hot water on, step into the shower and get splattered by reddish brown streams jetting from your shower head? Hopefully, it hasn't. But, if it does you can narrow it down to a couple of sources. Rust in plumbing can cause water to appear yellow, brown, or red. The rust could be in the pipes inside your home. It could also be in the outside pipes leading into your home or even in the water heater. The good news is that it's not really a health hazard. The bad news is — well — it's pretty unsightly. It also causes the water to taste metallic and can leave stains on clothing and toilets and tubs. This fix has to be handled by installing a water treatment system.
Rotten egg smell
Unfortunately, discolored water is often accompanied by a nasty, sulfur-like rotten egg odor. This sewage-like smell indicates that bacteria are growing in your water heater. This happens for a few reasons. If you've been away and turned the water off or turned the thermostat too low to keep the water hot, bacteria will take advantage of a prime place to colonize. Although the bacteria are not harmful, it's best to have a professional plumber help you deal with this problem.
CONCLUSION
Your gas water heater provides essential service for your family. Make sure you take care of it.Whether your gas water heater is new or old, if you're experiencing any of these issues, Knoxville Plumbing is here to help. Give us a call today for any of your plumbing needs!